Price of Adani Solar Panels in India Bifacial, Poly, and Mono
In the ever-growing world of renewable energy, Adani Solar has established itself as one of the foremost solar panel companies globally. As a part of the diversified Adani Group, Adani Solar operates across borders, serving customers worldwide. With a strong focus on photovoltaic manufacturing, Adani Solar has become a pioneer in the industry, setting new benchmarks for innovation and sustainability.
Solar power has emerged as a leading contender in the quest for renewable and clean energy sources. Among the key players in the solar industry, Adani Solar Panel stands out as a prominent provider of high-quality and innovative solar solutions. In this article, we will explore the remarkable features and benefits of Adani Solar Panel, understanding how it is driving the transition to a sustainable future.
Types of Adani Solar Panel
Adani Solar produces a variety of high-efficiency solar panels. All of the panels are built with cutting-edge technology and perform in their respective fields of work. Adani Solar also offers customized solar products to best suit your location, area and latitudes.
Here are the three main types of solar panels produced by Adani Solar
Let's go into the solar world and learn more about these Adani solar panels.
Adani Polycrystalline Solar Panel Price List
| Solar Panel Model (Watt) | Selling Price | Price/Watt |
| --- | --- | --- |
| | Rs.8,700 | Rs.29 |
| 305 Watt Solar Panel | Rs.8,845 | Rs.29 |
| 310 Watt Solar Panel | Rs.8,990 | Rs.29 |
| 315 Watt Solar Panel | Rs.8,820 | Rs.28 |
| 320 Watt Solar Panel | Rs.8,960 | Rs.28 |
| 325 Watt Solar Panel | Rs.9,100 | Rs.28 |
| 330 Watt Solar Panel | Rs.9,240 | Rs.28 |
| 335 Watt Solar Panel | Rs.9,715 | Rs.29 |
| 535 Watt Solar Panel | Rs.9,500 | Rs.27 |
| 540 Watt Solar Panel | Rs.14,580 | Rs.27 |
1. Polycrystalline Solar Panel
Adani Solar produces the Encore series of multi-crystalline solar panels, which are highly efficient and have higher return rates. Adani polycrystalline panels are ideal for utility-scale installations. Adani Polycrystalline solar panels have 72 cells and a power output of 325-345 Wp. The modules, which were created using cutting-edge technology, have a low temperature coefficient and a high fill factor. Furthermore, they offer exceptional low-light irradiance performance.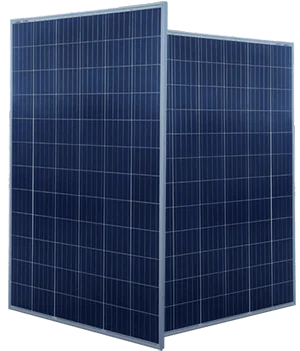 Adani's polycrystalline panels are the most cost-effective solar panels. Multicrystalline cells are made up of multidimensional crystalline material - a crystal that has grown in numerous directions. Multicrystalline solar cells are square in shape as opposed to the circular shape of monocrystalline solar cells. It is less efficient than monocrystalline solar panels. However, because the panels are less expensive and provide steady energy generation even under adverse weather conditions, they are a popular choice among many solar consumers.
2. Monocrystalline Solar Panel
Adani Solar produces two mono facial solar module types: the Eternal PRIDE series (132 cells and 610-650 Wp) and the Eternal SHINE series (144 cells and 520-545 Wp). Adani's monocrystalline solar panels are 10% more efficient than multicrystalline modules. A considerable number of people all across the world are moving to Adani monocrystalline solar modules for their large-scale rooftop installations, impressed by The modules' greater performance at longer wavelengths of light. The modules are entirely automated, have more efficiency, and may generate more electricity.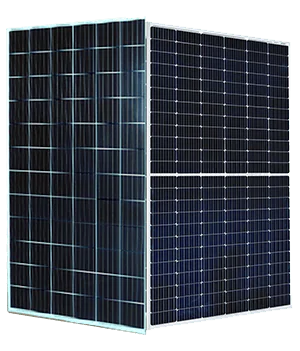 Monocrystalline solar panels are highly efficient and inexpensive. This type of panel is also known as single crystalline silicon solar panels. Monocrystalline solar cells convert solar energy into electricity. When sunlight reflects off a silicon semiconductor, enough energy is absorbed to knock electrons loose and allow them to fly freely. Because they are made of single silicon, these solar panels are more efficient. They are slightly more expensive than multi-crystalline solar panels.
Adani Mono Solar Panel Price List
| | | |
| --- | --- | --- |
| Solar Panel Model (Watt) | Selling Price | Price/Watt |
| 520 Watt Solar Panel | Rs.16,120 | Rs.31 |
| 525 Watt Solar Panel | Rs.16,275 | Rs.31 |
| 530 Watt Solar Panel | Rs.15,900 | Rs.30 |
| 535 Watt Solar Panel | Rs.16,050 | Rs.30 |
| 540 Watt Solar Panel | Rs.16,200 | Rs.30 |
| 545 Watt Solar Panel | Rs.16,350 | Rs.30 |
| 630 Watt Solar Panel | Rs.18,270 | Rs.29 |
| 635 Watt Solar Panel | Rs.18,415 | Rs.29 |
| 640 Watt Solar Panel | Rs.18,560 | Rs.29 |
| 645 Watt Solar Panel | Rs.18,705 | Rs.29 |
| 650 Watt Solar Panel | Rs.18,850 | Rs.29 |
3. Bifacial Solar Panel
Adani Elan PRIDE and Elan SHINE are two bifacial panel series named by Adani. Adani's bifacial solar modules are highly useful for large-scale installations. There are 72 cells with a Wp of 360-395. Adani provides N-type solar modules with up to 87% bifurcation and p-type modules with 70% bifurcation. Furthermore, without a reflecting surface, you can achieve up to 13% increase. Adani's Bifacial modules, on the other hand, can yield up to 22% gain over a lifetime when used with a reflective surface and fixed tilt.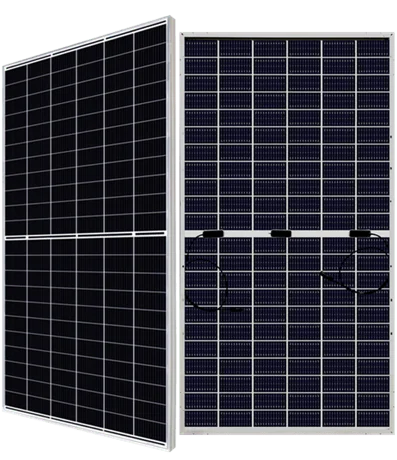 Bifacial solar panels are the most advanced solar energy producing devices. They are built in such a way that they can generate electricity from both sides. That is, even the rare side of the modules that does not directly face the sun is light sensitive and can be used to serve our goal. Because of its dual functioning, solar panels are the most efficient modules available. They are also quite durable and take up little space.
Why Choose Adani Solar Panel?
Adani Solar Panel has garnered a strong reputation for its reliability, efficiency, and commitment to sustainability. Let's delve into why Adani Solar Panel is a preferred choice for solar energy enthusiasts and businesses.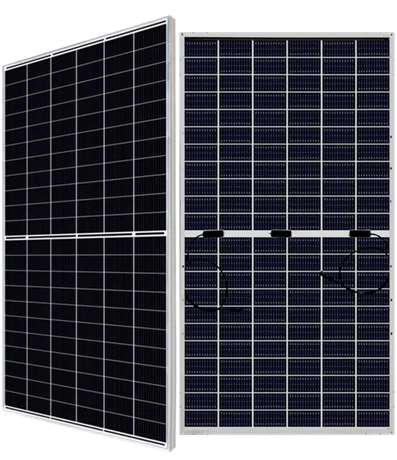 1. Cutting-Edge Technology and Innovation
Adani Solar Panel is at the forefront of solar technology innovation. The company consistently invests in research and development to enhance its panels' efficiency, performance, and functionality. By leveraging the latest advancements in photovoltaic technology, Adani Solar Panel delivers state-of-the-art solutions that meet the evolving needs of customers and the industry.
2. Superior Quality and Durability
Adani Solar Panel strongly emphasises quality and durability. Each panel undergoes stringent quality control measures and comprehensive testing to ensure optimal performance and longevity. The panels are built with high-quality materials and adhere to international quality standards, ensuring reliable operation even in challenging environmental conditions.
3. High Efficiency and Power Output
Efficiency is a crucial factor in solar panels. Adani Solar Panel excels in this aspect, employing advanced manufacturing processes and technologies to achieve exceptional efficiency. By maximising the conversion of sunlight into electricity, Adani Solar Panel delivers higher power output, allowing for greater energy generation and improved system performance.
4. Wide Range of Solutions
Adani Solar Panel offers diverse solar solutions to cater to various applications and requirements. Whether for residential, commercial, or industrial projects, the company provides tailored solutions to meet specific energy needs. From rooftop installations to utility-scale solar farms, Adani Solar Panel offers a comprehensive product portfolio to support various projects.
5. Sustainability and Environmental Responsibility
Adani Solar Panel is deeply committed to sustainability and environmental responsibility. The company integrates sustainable practices throughout its operations, from the manufacturing process to the end-of-life recycling of panels. By harnessing the power of the sun, Adani Solar Panel enables clean energy generation, reducing reliance on fossil fuels and contributing to a greener and more sustainable future.
6. Comprehensive Customer Support
Adani Solar Panel prioritises customer satisfaction and provides comprehensive support at every stage of the solar journey. From initial consultation to installation and after-sales service, their dedicated team ensures customers a seamless and positive experience. Whether technical assistance or general inquiries, Adani Solar Panel provides prompt and reliable support.
---