Best Price Vikram Solar Panels & Bifacial, Poly, Mono
Vikram Solar Limited is India's second-largest solar panel manufacturing firm, headquartered in Kolkata. Gyanesh Chaudhary founded Vikram Solar in 2006 as part of the Vikram Group of Companies.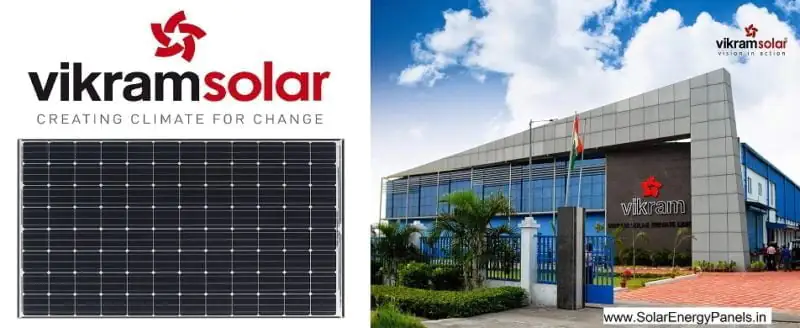 The company specialises in high-efficiency solar PV modules and has recently expanded into EPC (engineering, procurement, and construction) services. Vikram Solar set a significant milestone in 2015 when it installed India's first floating solar power plant.
Vikram Poly Solar Panel Price
| Solar Panel Model (Watt) | Selling Price | Price/Watt< |
| --- | --- | --- |
| | Rs.1,900 | Rs.38 |
| 75 Watt Solar Panel | Rs.2,850 | Rs.38 |
| | Rs.3,300 | Rs.33 |
| 160 Watt Solar Panel | Rs.5,280 | Rs.33 |
| | Rs.5,600 | Rs.28 |
| 270 Watt Solar Panel | Rs.7,560 | Rs.28 |
| 320 Watt Solar Panel | Rs.8,960 | Rs.28 |
| 325 Watt Solar Panel | Rs.9,100 | Rs.28 |
| 330 Watt Solar Panel | Rs.9,240 | Rs.28 |
Why Choose Vikram Solar Panel?
Vikram Solar Panel has earned a reputation for its superior quality, cutting-edge technology, and commitment to sustainability. Let's delve into the key reasons why Vikram Solar Panel is a preferred choice for solar energy enthusiasts and industry professionals.
1. High Efficiency and Performance
When it comes to solar panels, efficiency and performance are crucial factors. Vikram Solar Panel excels in this aspect, utilizing advanced technologies and rigorous quality control processes to ensure optimal efficiency and power output. Vikram Solar Panel delivers outstanding performance by harnessing maximum sunlight and converting it into electricity, even in challenging environmental conditions.
2. Durable and Long-Lasting
Investing in solar panels is a long-term commitment, and durability is crucial. Vikram Solar Panel boasts exceptional durability, designed to withstand extreme weather conditions and prolonged exposure to the elements. Built with high-quality materials and robust engineering, these panels are built to last, providing reliable performance over their extended lifespan.
3. Cutting-Edge Technology and Innovation
Vikram Solar Panel stays ahead by embracing cutting-edge technology and continuous innovation. The company invests significantly in research and development to enhance the efficiency and functionality of its panels. By integrating the latest advancements in solar technology, Vikram Solar Panel delivers state-of-the-art solutions that meet the evolving needs of the industry and customers.
4. Stringent Quality Assurance
Vikram Solar Panel follows stringent quality assurance measures to ensure the highest level of product excellence. Each panel undergoes meticulous testing and inspection at various stages of production, adhering to international quality standards. This rigorous approach guarantees that customers receive top-notch products that deliver exceptional performance and reliability.
5. Customizable Solutions
Vikram Solar Panel understands that every project has unique requirements. Whether it's a residential rooftop installation or a large-scale commercial project, the company provides customizable solutions to meet diverse energy needs. Their team of experts works closely with customers to design and implement solar systems tailored to their specific requirements, ensuring optimal performance and efficiency.
6. Sustainability and Environmental Responsibility
Vikram Solar Panel is committed to sustainability and environmental responsibility. The company embraces eco-friendly manufacturing practices, optimizing resource utilization and minimizing waste generation. By harnessing the clean and renewable energy from the sun, Vikram Solar Panel contributes to reducing carbon emissions and mitigating climate change, promoting a greener and healthier planet for future generations.
---